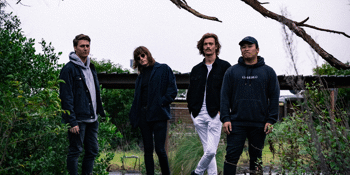 Code One presents
Fripps & Fripps + Jordan Kenny Band
Paddo Lounge (Paddington RSL) (Paddington, NSW)
Friday, 18 December 2020 7:00 pm
With a mutual addiction to ice cold aluminium cylinders & cheap Mexican food, Fripps & Fripps debuted on Sydney's music scene around 4 years ago. Following the release of their debut EP 'Feeler on the Roof', the lads spent the majority of 2019 writing and recording their sophomore EP, 'Keen For A Can' which released in mid 2019.

2019 saw the lads complete 2 east coast tours including an 8-date EP tour with dates in Adelaide, Brisbane, Canberra, Wollongong, Gold Coast and Sydney. Fripps also travelled to the USA to perform at SXSW 2019 with showcases at Sounds Australia and SXSW in downtown Austin.

Since the release of their debut EP, 'Feeler On The Roof' in early 2017, Fripps & Fripps have reached audiences globally, with songs 'Get Your End Wet' & 'Cigarettes For Breakfast' featuring on the UK Viral 50 & The Indie List on Spotify. The success of these releases saw the boys rack up 1,000,000 streams across 64 countries in 2018 paving the way for continuing interest in the UK. Recent releases 'Strange Things' was also included in The UK Indie List racking up around 60,000 streams during its 2 week placing on the playlist.

The boys are currently hard at work on their debut album, set for release in early 2021 amongst regular support shows and regional tours.