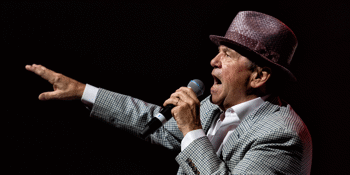 Code One
Glenn Shorrock Sings Little River Band CANCELLED
Paddo Lounge (Paddington RSL) (Paddington, NSW)
Saturday, 30 November 2019 7:00 PM
*** Due to unforseen circumstances, this event has been postponed.
Customers will recieve a refund to the orginal credit card used in the purchase. Please allow up to 10 working days for funds to be processed ***

With a successful career spanning over half a century, GLENN SHORROCK is one of the elder statesmen of Australian contemporary show business, and is pleased to announce his entire Band experience will be returning to the Paddington this November.

SHORROCK was founding member and lead singer of super groups The Twilights, Axiom (with Brian Cadd) and Little River Band. The Twilights had eight consecutive national hit singles including "Needle in a Haystack" and "What's Wrong with the Way I Live". Axiom's top 10 hits include "Arkansas Grass", "Little Ray of Sunshine" and "My Baby's Gone". Little River Band cracked the lucrative United States market in 1976, and began a string of eight Top Ten Hits in the U.S.A. and around the world.
His songwriting credits include the international hits "Help is on its Way", "Emma", "Home on Monday" (co-writer Beeb Birtles), "Long Jumping Jeweler", "Shut Down Turn Off" and "Cool Change."
As self–confessed child of rock n roll, SHORROCK is looking forward to this big new show and guarantees a highly entertaining experience; Hot on the heels of a brand new studio album release 'Glenn Shorrock Sings Little River Band' audiences are assured to be taken for an unforgettable and reminiscent musical journey of rock and roll.
Book your tickets NOW to avoid disappointment!